ARC 10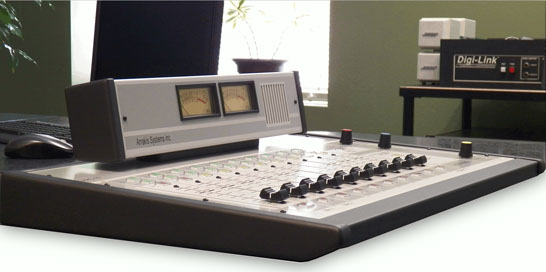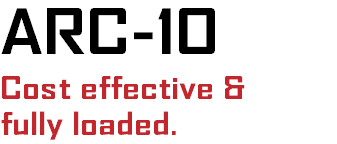 The ARC-10 series of radio consoles are general purpose consoles that meet the needs for most On Air Radio & Radio Production studio applications.

Performance you can feel.
With the ARC-10 series console, you get a console that takes less time to setup, easier to maintain, and features that match consoles that are double its price. All the power, none of the regrets.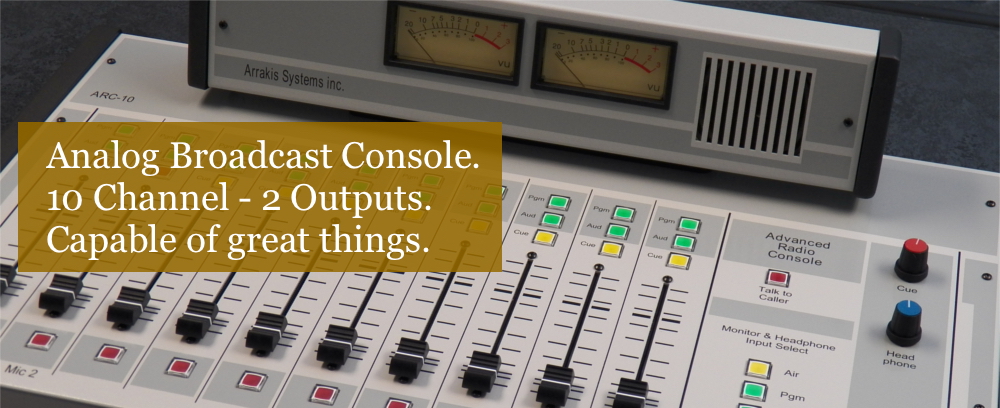 5 Types of Channels


Microphone

▪ 2 High Performance mic channels. Perfect for a Guest/Host configuration.
▪ High performance mic channels, with XLR inputs.
▪ High performance mic preamps.
▪ 48 VDC phantom power.
(optional, $69)
▪ Channel 1 features a Talk button to talk to a Studio monitor.
▪ LED illuminated switches.


Stereo Line

▪ 7 Inputs, giving you enough channels to connect all of your devices.
▪ Trim pot adjustable for each channel.
▪ Active balanced RJ-45 or unbalanced RCA (depending on model)
▪ 2 stereo output buses. Both balanced and unbalanced outputs.
▪ LED illuminated switches.


USB

▪ ARC-10UP & BP models only.
▪ Play & Record in digital with Windows PC or Mac.
▪ USB sound card functionality to work with any software.
▪ Simple connect using standard USB cable.
▪ Play audio from your USB device directly onto your board.
▪ Record audio from your board using any 3rd party software.


Phone

▪ Phone channel comes standard, allowing you to connect to a phone hybrid.
▪ Audio & Logic connections available to connect to hybrid.
▪ Listen off-line to a caller using the Cue button.
▪ Talkback button enables you to talk to the caller off-air.
▪ Mix minus feed to the caller is a mix of Pgm-Aud.
▪ LED illuminated switches.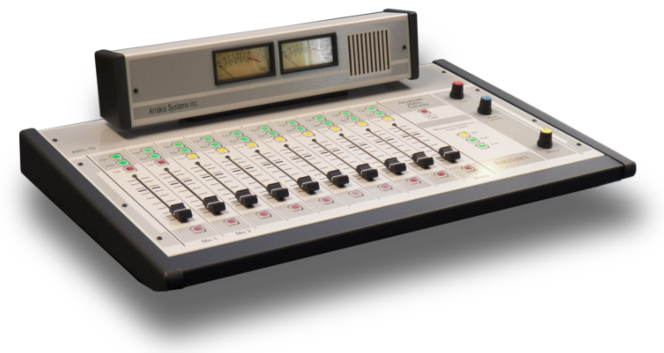 Bluetooth

▪ The Bluetooth channel allows you to connect any Bluetooth device to channel 10 on the board.
(optional, $300 on any model)
▪ Connect your phone using the Bluetooth channel to take calls and put callers on-air.
▪ Connect your tablet wireless to the board, to play audio over the air.
▪ Quality comes standard with the latest in Bluetooth technology.
Learn more.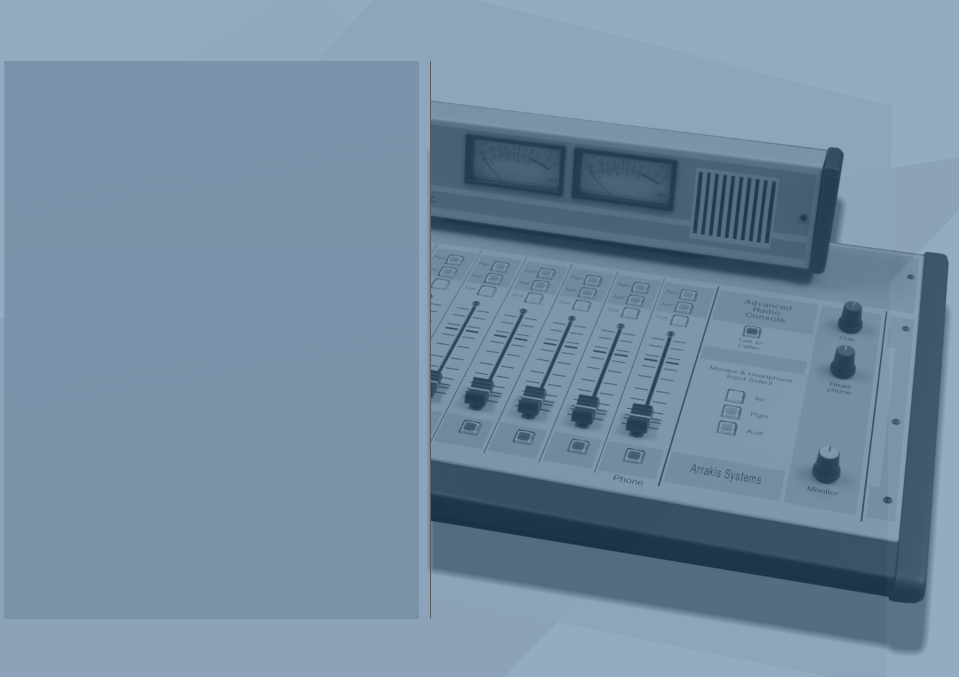 Three Models to Choose from.
The ARC-10 family of consoles comes in 3 models. They all have the same front panel operation and differ only in the types of input sources that they accommodate.
ARC-10U
▪ Unbalanced RCA Inputs. Easy connectivity.
▪ No USB channel.
▪ Stereo input channel on channel 9, in lieu of USB channel.
ARC-10UP
▪ Unbalanced RCA Inputs. Easy connectivity.
▪ USB channel on channel 9.
ARC-10BP
▪ Balanced RJ-45 Inputs; excellent for high RF environments.
▪ USB channel on channel 9.