ARRAKIS Mac15

Powerful.
The MARC-15 console is the flagship of the Arrakis Systems broadcast radio consoles. It is designed to meet the needs of any demanding radio station or group. It has the perfect balance of power & flexibility. If you demand performance that is both high tech and practical, then the MARC console is for you.

Tailored for you.
The standout feature of the MARC console is that it is modular. What does modular mean, it means you can choose exactly what configuration is perfect for your studio. Need 5 mic, 2 USB, 6 line and 2 phone modules? The MARC can do that. The options are nearly limitless.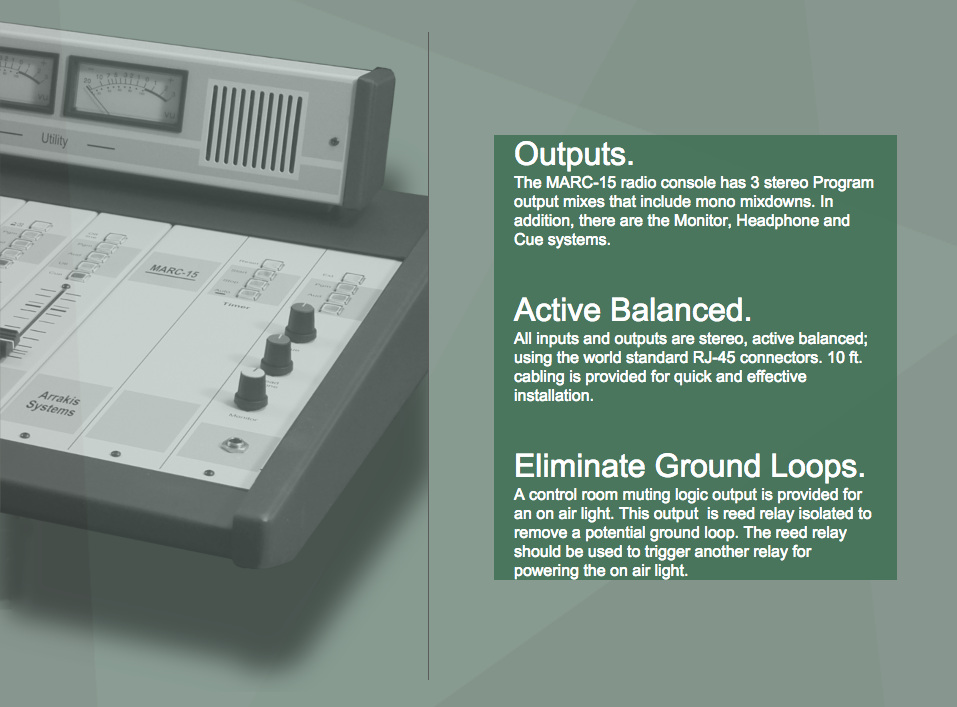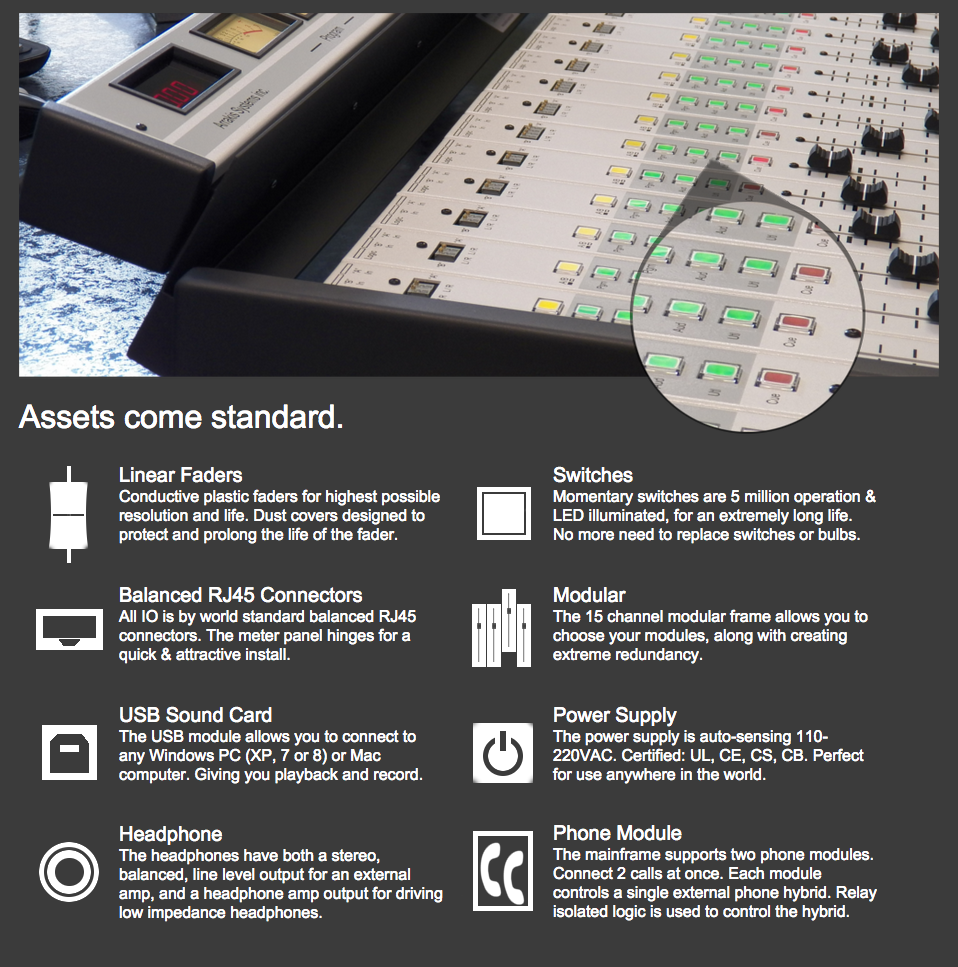 Reliable.
The MARC-15 modular analog broadcast radio console is the definition of peace of mind. When you purchase the MARC, you purchase a board that will last generations. Modules are simple to swap. All switches and IC's are socketed for reliability and easy maintenance.

Future Proof.
Its features are future proof. The MARC-15 will give you all the power and flexibility that is required for a growing station or group. When you choose the MARC, you are not just choosing a short term solution, you are choosing a powerful solution that grows and changes to meet your ever changing needs.

5 Modules to choose from.



Microphone

▪ A/B Inputs (2 inputs per module).
▪ Front panel trim pot adjustment.
▪ High performance mic preamps.
▪ 48 VDC phantom power.
▪ 3 stereo output buses.
▪ A input remote channel Turret control.
▪ LED illuminated switches.


Stereo Line

▪ A/B Inputs (2 inputs per module).
▪ Front panel trim pot adjustment.
▪ Active balanced trimpot amplifiers.
▪ 3 stereo output buses.
▪ A input machine source start and stop logic is relay isolated.
▪ LED illuminated switches.


USB

▪ Play & Record in digital with Windows PC or Mac.
▪ USB sound card functionality to work with any software.
▪ Simple connect using standard USB cable.
▪ Play audio from your USB device directly onto your board.
▪ Record audio from your board using any 3rd party software.
▪ LED illuminated switches.


Phone

▪ 2 Phone modules can be used to conference call 2 callers simultaneously.
▪ Control an external phone hybrid for operation.
▪ Relay isolated logic of an external phone hybrid.
▪ Mix minus feed to the caller is a mix of Pgm-Aud-Utl.
▪ Cue button for listening to the caller only.
▪ LED illuminated switches.


Studio Monitor

▪ Monitor & Talkback fuctions between control room and other studio.
▪ Speak to the host and talent in the studio, using the Talk to Studio button.
▪ Uses Stereo active balanced audio outputs for a muted monitor feed, & un-muted earphone feed.
▪ Reed relay isolated output for on-air light.
▪ LED illuminated switches.

Expandable High Def Images:

[Best_Wordpress_Gallery id="2″ gal_title="MARC-15″]

More than 30 years experience in the design and manufacture of radio consoles, the MARC-15 from Arrakis has the features, performance, and reliability that are required for professional radio applications.